Real Estate News.....

1/8/19-- Freddie Mac released the mortgage rates a few days ago, "showing that mortgage rates continued their downward trend to end the week and the year lower". Rates were: 30-year fixed-rate mortgage (FRM) averaged 4.55 percent with an average 0.5 point. 15-year FRM this week averaged 4.01 percent with an average 0.4 point. 5-year Treasury-indexed hybrid adjustable-rate mortgage (ARM) averaged 4.00 percent with an average 0.3 point. It's still a great time to buy a property....

realestate

#

statistics

rates

homebuyers

goodmarket


12/18: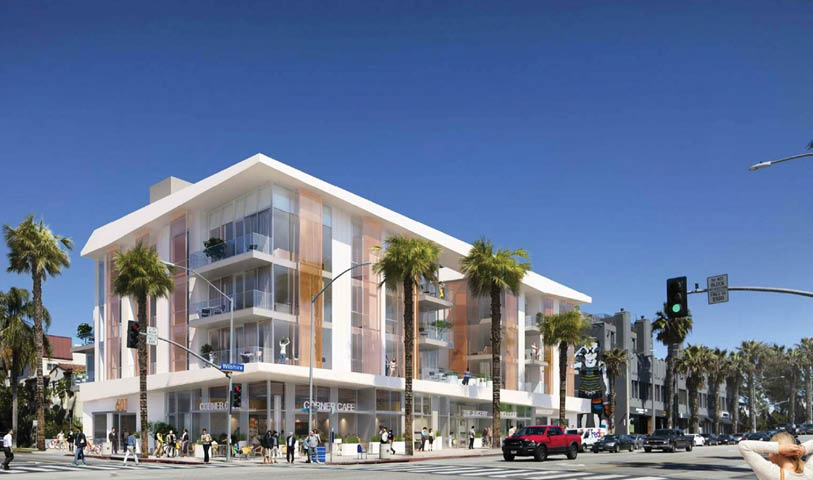 New Apartments Planned for Wilshire Blvd in Santa Monica...

Developer WS Communities is planning to construct a mixed-use apartment complex at the corner of Wilshire Blvd. and 6th Street. The low-rise structure would stand 4 stories high and contain 40 residential units, in studio, one-, two- and three-bedroom configurations. Three apartments would be set aside for low-income tenants. The ground floor would provide 6,221 square feet of commercial space along the Wilshire corridor. The development would be located just a block west from the tennis courts at the Christine Emerson Reed Park. Construction of the building would necessitate the demolition of two existing commercial buildings, whose tenants include a FedEx Office location and a ticket agency. WS Communities is very active in the Santa Monica area, with several projects planned along Colorado Blvd. and Lincoln Blvd., including a mixed-use project at 1550 Lincoln Blvd. that is currently under construction.


8/17/18:
Below's a commentary from CNBC (link).

I don't think the market's turning quite yet, though. I think the price cuts we've seen are because some sellers thought they could charge "whatever," with no comps to back it up, since it's "a seller's market". So what happens is that the house sits on the market, and then they have no choice but to either cut the price, or take it off the market. We've seen prices cut on certain properties, the overpriced ones, all along. Invariably, the market will switch to a buyer market, as it traditionally alternates between buyer and seller markets, but not quite yet--there are still not enough properties for sale and there are enough buyers with means. Here's the link; feel free to comment or contact me for the statistics or my other thoughts on it:



https://www.cnbc.com/2018/08/16/housing-tipping-back-to-a-buyers-market-as-sellers-cut-prices.html?__source=sharebar|facebook&par=sharebar



4/13/18:
This is very cool, "Wallpaper Fire Alarm":


https://www.fastcodesign.com/90166058/smart-graphene-firefighting-wallpaper-screams-if-it-detects-flames
3/15/18:
The RE market will be perking up ("Spring") in a few weeks and it's shaping up to still be a strong seller's market, since inventory is still very low. Especially after we're done with all the rains and it warms up more, a lot of hopeful and able buyers will be looking for good properties. Most are also trying to beat the coming interest rate hikes.


But these days most buyers want "turn key", though that doesn't necessarily mean they won't be making some changes and "making it their own". And most take their time with their own "projects" for the property they purchase. But they want to be able to move into a fully functional, nice-looking property where they won't be having to make major repairs from the minute they move in.


So if you're thinking of selling, I hope you'll be ready for "Spring" and early summer and buyers, so that you can take advantage of the usual "Spring buyer euphoria". If you're thinking of buying, start getting pre-approved and ready to beat the spring rush. It's a good market.
1/16/18:

Great News for Many Wanting to Buy a Home!!!!: Employers Can Now Contribute to Your DownPayment!!!:


https://www.linkedin.com/pulse/good-news-many-buyers-carmen-a-queral-p-a-c-m-b-a-/?trackingId=Zqqxha8d%2B8fl7BHPtrYO7w%3D%3D

12/22/17:

Some last minute changes to tax reform will benefit some Realtors, real estate investors, and also homeowners were added to the final bill. New Tax Law Changes Related to Real Estate:

https://www.linkedin.com/pulse/some-tax-reform-changes-apply-re-carmen-a-queral-p-a-c-m-b-a-/?trackingId=mmmQbqAq8Zvw1nKHuajtbw%3D%3D


10/30/17:

Mortgage Rates higher this past week - The October 26, 2017 Freddie Mac Primary Mortgage Survey reported that the 30-Year Fixed mortgage rate average was 3.94%, up from 3.88% last week. The 15-Year Fixed was 3.25%, up from 3.19% last week. The 5-Year ARM was 3.21%,up from 3.17% last week. The higher the interest rates the less home for your dollar—time to buy before Spring, when home prices are typically higher. Those, combined with higher rates= less house. Take advantage now!







7/30/17:


CNBC Reports the new changes in lending that now make it easier to get a mortgage. Read the report here:

https://www.cnbc.com/2017/07/05/two-major-lending-changes-mean-its-suddenly-easier-to-get-a-mortgage.html


7/18/17:

Los Angeles on the Verge of Boosting First-Time Home Purchases
Posted by
themlsblog
It's no secret that the housing market is tough for middle and low-income residents; rental and sale prices continue to climb and inventory is limited. This issue is particularly pronounced in Los Angeles, where an ongoing housing affordability crisis has local legislators scrambling to find solutions.
A recent article by Curbed LA has revealed some exciting developments on this topic. On June 28th, City Council voted in favor of a plan to re-open and enhance the Low Income Purchase Assistance Program (LIPA) and the Moderate Income Purchase Assistance Program (MIPA). These programs assist first-time buyers with no-interest, no monthly payment loans to help cover acquisition, down payments and closing costs. In exchange, the city retains a portion of any appreciation that the home sustains. The loan requires repayment only if the home is sold, if the mortgage is paid off, or after 30 years. Below is the income criteria for both programs:
According to a recent report by Genworth Mortgage Insurance, approximately 3 million first-time homebuyers in the United States have been shut out of the market in the past decade. "Headship rates" (the number of people that are heads of their own home) have also decreased proportionately with rising unemployment rates. Below is a graph of headship rate compared to the employment-to-population rate of the largest population of homebuyers in the country, millennials:
Fortunately, the market is looking up. Unemployment rates have steadily decreased since 2010, and now Los Angeles is taking the necessary steps to bring more first-time buyers back into the fray. If the plan is passed, eligible LIPA participants can receive a loan of up to $90,000, while eligible MIPA participants can receive a loan of up to $75,000. This is great news for the real estate industry, as it will give agents access to a population of buyers that have been M.I.A. for the past ten years. Further, it reinforces the notion that the famed 20% down payment is no longer necessary to close a sale.

*************************************************************************

3/18/17: Federal Reserve raises benchmark rates !! - The Federal Reserve announced Wednesday that they had increased their benchmark interest rates. How does this affect mortgage rates? See more at:


https://www.linkedin.com/pulse/economic-real-estate-update-week-ending-march-17-2017-carmen-a-

********************************************************


3/10/17:
Mortgage rates rise on anticipation of Fed rate hike - The Freddie Mac Primary Mortgage Survey released on March 9, 2017 reported that average mortgage rates from lenders surveyed for the most popular mortgage products were as follows: The 30-Year Fixed rate average was 4.21%, up from 4.10% last week. The 15-Year Fixed average rate was 3.42%, up fro. 3.32% last week. The 5/1 ARM average rate was 3.23%, up from 3.14% last week. Rates rose at the end of the week. Next week's rates will probably be at least 1/8% higher.
*************************************************************************

3/7/17: From the California Association of Realtors:

"For the year 2016, California managed to edge out a marginal gain of 1.7 percent in existing home sales from last year to hit 416,250, as the state housing market wrapped up the year with a very strong quarter. In fact, the fourth quarter was the strongest we have seen since the last quarter of 2012 when we had our last presidential election. The statewide median price also increased 5.4 percent from 2015 to reach $502,250, and it was the first time since 2007 that the median price surpassed the $500,000benchmark".



**************************************************************************************


3/7/17: The Real Estate market is hot, and it's nice to see people are able to buy houses again:



http://www.cnbc.com/2017/03/07/millennials-drive-housing-confidence-higher-despite-red-hot-prices.html



*******************************************************************************


2/28/17

"Spring housing already overheating—think 60 offers on one house"






****************************************************************************************






U.S. Home sales jump in January - The National Association of Realtors reported that January 2017 home sales increased to the fastest pace in almost a decade. Closed escrows increased 3.3% in January from December, and were 3.8% higher than last January's number. The nationwide median price also increased, up 7.1% from January 2016. Details at:

https://www.linkedin.com/pulse/economic-real-estate-update-week-ending-february-24-carmen-a--1


*****************************************************************************

10/28/16:

Tesla is in the roofing and solar business with very promising solar shingles! If their price-point is affordable, it could revolutionize both industries. Here's a report on them:

https://techcrunch.com/2016/10/28/these-are-teslas-stunning-new-solar-roof-tiles-for-homes/
*********************************************************************************
10/23/16
Mortgage rates up just slightly last week
- The Freddie Mac Primary Mortgage Survey from October 20 showed: The 30-Year Fixed rate average rate was 3.52%. The 15-Year Fixed average was 2.79%. The 5/1 ARM average was 2.85%.
These
are
still
i
ncredibly
low
rates
, such a
great opportunity to buy
property!

***********************************************************************************************10/10/16
It May Be A Good Idea to Pick Up a Property Before Next Year, (especially before August!). Here's why:
"Wednesday, October 5, 2016. CoreLogic expects peak house prices in 2017.
CoreLogic forecasted this week that U.S. house prices will rise 5.3 percent by next August, setting the market on track to hit a new home price peak in 2017.
"Home prices are now just 6 percent below the nominal peak reached in April 2006," CoreLogic Chief Economist Frank Nothaft said in a news release Tuesday. "With prices forecast to increase by 5 percent over the next year, prices will be back to their peak level in 2017."
Rising prices, which continued through this past August, already are "contributing to a growing affordability crisis in many markets around the country," the company's latest price report said.
Orange County house prices increased 4.9 percent in August, the best appreciation rate of the summer, according to the CoreLogic Home Price Index.
The region's highest price gain was in Los Angeles County, where house prices increased 6.9 percent in August.
In the Inland Empire, prices were up 5.7 percent.
By comparison, August house prices were up 6.2 percent nationwide and 5.9 percent in California, the index shows.
Prices have gone up on a year-over-year basis for at least 51 consecutive months throughout the region, a trend fueled by a stronger economy and a shortage of homes for sale, said CoreLogic president and CEO Anand Nallathambi."
(c)2016 The Orange County Register (Santa Ana, Calif.)
Distributed by Tribune Content Agency, LLC.
***********************************************************************

9/25/16
Southern California home sales hit 10 year high in August - Data firm CoreLogic reported that 23,278 new and existing single family homes sold in August in their 6-county Southern California region. That number represents a 10 year high and almost a 10% increase in the number of homes sold in August last year. The median price was flat in August, but up 6.2% from one year ago, according to CoreLogic.
***************************************************************************
8/18/2016:
Boomers Becoming Landlords In Bid To Give Their Retirement A Boost:


http://www.investors.com/news/real-estate/boomers-becoming-landlords-in-bid-to-give-their-retirement-a-boost/


******************************************************************************************
8/18/16
Dubai is building the world's first hotel with its own rainforest — here's what it's like inside….

http://www.businessinsider.com/inside-dubais-hotel-with-a-rainforest-2016-8




****************************************************************************************
PASADENA, Calif. (KABC) --
Gov. Jerry Brown has called on California lawmakers to provide funds to get an earthquake early warning system up and running.
Prototype warning systems have already been developed and tested by universities like California Institute of Technology and University of California, Berkeley, but due to a lack of funding, the systems have been delayed.
In a major reversal, Brown, who has supported the system but refused to use state money, called on lawmakers for $10 million in his most recent budget proposal.
"We've been hopeful because there are a number of state legislatures who are now actively advocating for this in Sacramento, but this was the first indication that we got the governor was on board and it was a strong indication," Rep. Adam Schiff said.
Brown added the $10 million to his revised budget proposal with $6 million of that to be used for seismic stations and sensors.
$2 million would go to educate people on the system and the remaining money would be used to pay for staff.
Professor Egill Hauksson, a seismologists at Caltech, said countries like Japan and Mexico already use early warning systems.
"In Japan they have been operating this system for I think about eight years and so they have quite a bit of experience in terms of issuing alerts and evaluating different type of earthquakes," Hauksson said.
The legislature has until June 15 to pass the budget. If the budget is approved, a limited system could be ready as early as 2018.
For resources to help you prepare for an earthquake, go to
abc7.com/preparesocal
.
(Copyright ©2016 KABC-TV. All Rights Reserved.)
***************************************************************************************

L.A. Releases Addresses of 13,500 Apartments Likely to Need Earthquake Retrofitting | KTLA
April 15:

Neighborhoods in the San Fernando Valley, Hollywood and the Westside will feel the biggest
impact from Los Angeles' new law requiring the retrofitting of wood-frame apartment buildings to
better withstand a major earthquake, according to a Times data analysis.

City inspectors spent about two years developing a list of 13,500 so-called soft-story buildings that will probably need seismic strengthening. These apartments, which feature flimsy first floors that often serve as parking spaces, became popular after World War II as Los Angeles was spreading north into the Valley and west toward the ocean.
But they've also proved to be vulnerable to violent shaking. Buildings collapsed in the 1989 Loma Prieta and the 1994 Northridge earthquakes, including one apartment building where 16 people died.
Los Angeles building officials sifted through tens of thousands of city records and walked block-to-block to identify these structures.

Owners of each building have been put on notice, and a number of them have already begun the retrofitting process. The retrofits can cost as much as $130,000, which has sparked concerns from owners and residents feeling the pressure of rising rents and a housing crunch.
For the whole article and the list of apartment buildings:

http://ktla.com/2016/04/15/l-a-releases-addresses-of-13500-apartments-likely-to-need-earthquake-retrofitting/
Source: L.A. Releases Addresses of 13,500 Apartments Likely to Need Earthquake Retrofitting | KTLA


*************************************************************************************


Setting the stage to sell your home
Professionally staged homes spend half as much time on the market than non-staged homes, experts say.
Source: CNBC: Setting the stage to sell your home:
http://www.cnbc.com/2016/04/14/setting-the-stage-to-sell-your-home.html
Posted 4/16